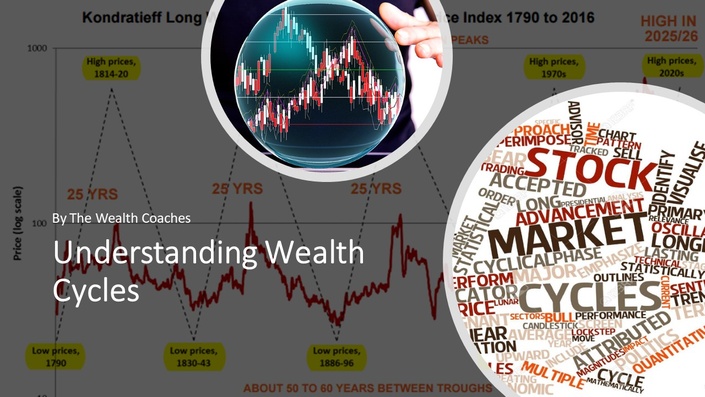 Understanding Wealth Cycles
'Why every investor needs to study, understand, and apply Wealth Cycle investing!"
One of the most important investment paradigms ever described in finance is a concept known as Wealth Cycles. This phrase was made popular by Mike Maloney of GoldSilver.com back in 2005. He is famous for having predicted the financial crisis of 2008 based on a long-term historical study of how complex financial markets move in and out of favor over time, usually in a somewhat predictable fashion. These cycles typically occur in 10-20 year momentum swings, as well as in generational cycles of 60-80 years in length.
The theory asserts that three major asset classes, Paper Assets (stocks, bonds, derivatives, etc.), Commodities (precious metals, oil, agriculture, etc.), and Real Estate (residential, commercial, and investment), tend to move in opposing directions throughout time. More astute investors tend to follow legendary investor Warren Buffett's advice to "sell when others are greedy and buy when others are fearful". On the other hand, novice retail investors who usually follow the crowd, often purchase the asset class that is currently the most popular based on recent short-term returns or that is most favored by the masses / mass media, and thus typically end up buying high near the very top of the market. Meanwhile, the more knowledgeable and educated investor has already sold at the top and shifts assets to the currently out-of-favor asset class that no one else is buying. These investors buy near the bottom of the market by purchasing the very asset class that others don't currently want and that the media is usually deriding.
The trick, of course, is knowing which asset class is too hot to hold onto any longer, which one offers reasonable stability, and which one should be acquired en masse while it is still effectively on sale. Wealth Cycle analysis will help you to get better at timing the market based on longer term cycles so you can sell high and buy low more often, rather than the other way around like most retail investors do.
At some point between the adult and pre-retirement stages of life, you will begin to have enough money under management to contemplate strategically investing in asset allocation strategies based partially on the wealth cycle concept presented in this course.
What you will Learn
In this course, you will learn the various techniques of wealth cycle investing as described by Mike Maloney and others; Kondratieff Wave theory; Elliott Wave theory; age-based asset allocation; Demographic-based strategic investing (based on the works of famous demographer Harry S. Dent of "Boom, Bust & Echo" fame); and risk profile analysis. This course is strategically placed in the series for the 30-65 year olds to study so they can maximize their returns and minimize their losses during these critical investment years of life. This course can be taken as a stand-alone or included in a bundle with the other courses offered.
Remember, here are your chances of financial success by age 65 if you follow the crowd and do what they do with their hard earned money.
---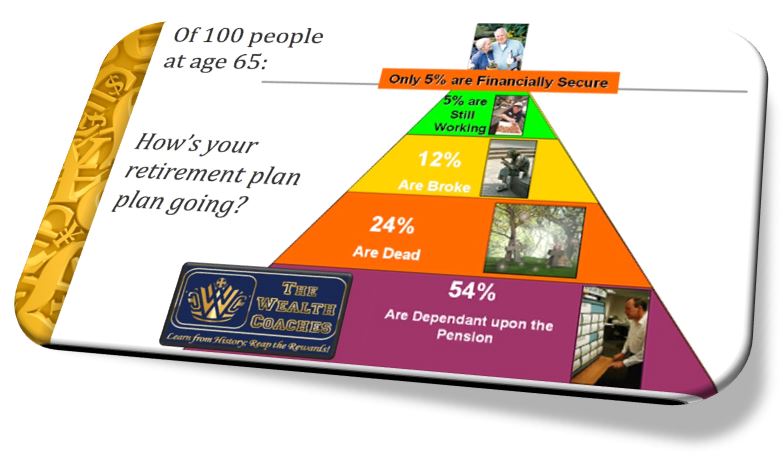 With a 95% financial failure rate by age 65, most people clearly do not learn the secrets of money at an early enough age. With degrees in economics and finance, and loads of financial experience since 1992, I will be guiding adults and pre-retirees on the importance of Wealth Cycle investing as they strive towards financial independence. It's never too late to learn the investment secrets of the ultra-rich to secure a cozy retirement. Just make sure you log into your account annually and put the lessons learned into practice!
---
Your Instructor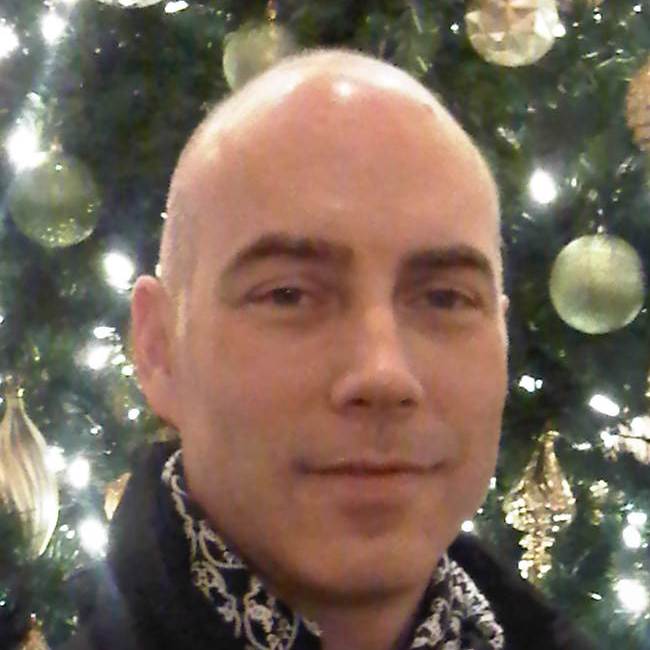 As a graduate of the University of Calgary, I possess degrees in both Economics (micro & macro) and Commerce (specializing in Finance and Management Science.)
I began a financial planning career in 1992 and served hundreds of clients over the next 5 years. I moved on to the private equity markets where, as VP Finance, I successfully helped raise venture capital for a very unique sports-related training device. Since 1998, I have run several businesses in marketing, branding, fitness, and multimedia.
Since 2002, Trilogy Promotions Inc. has been dedicated to providing these services all under one roof through three distinct business brands: Asset Pro, The Wealth Coaches, and ThoughtWurx.
In 2011, I returned to the private equity markets and now coach clients on the fundamentals of money, wealth creation, demographics, wealth cycles, currencies, commodities, small business development, estate planning, asset protection, and income diversification.
As a Wealth, Health, and Business Development coach, I endeavor to educate my clients in the two fundamental areas of Wealth and Health, with a focus on business development in many areas.
Once educated on the fundamentals of the due diligence process, I help clients create and manage wealth, and protect it from the ravages of inflation, taxes, and the volatile nature of the financial markets.
I am a strong advocate of optimal health and I am proud to use my extensive fitness industry experience to promote the national "90 Day Challenge" platform to foster better dietary and exercise habits for my clients, their families, and their fellow employees.
For businesses, I also seek out new projects; perform detailed needs analysis regarding my client's media marketing strategy; and design multimedia video & TV-ready presentations to help my clients put their best faces forward.

I utilize a variety of publications & social media platforms to showcase unique businesses. In developing a cohesive marketing and branding strategy, I help clients enhance their brand recognition, and boost sales possibilities through enhanced product & service education.
Frequently Asked Questions
When does the course start and finish?
The course starts now and never ends! It is a completely self-paced online course - you decide when you start and when you finish.
How long do I have access to the course?
How does lifetime access sound? After enrolling, you have unlimited access to this course for as long as you like - across any and all devices you own.
What if I am unhappy with the course?
We would never want you to be unhappy! If you are unsatisfied with your purchase, contact us in the first 30 days and we will give you a full refund.
This course is closed for enrollment.