Business Idea #4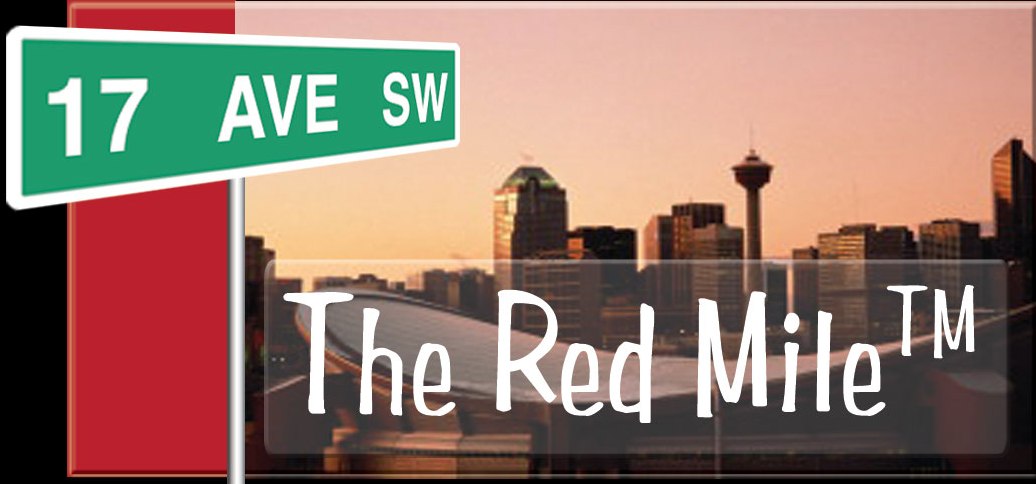 TRM is one of four business brands operated by Trilogy Promotions Inc. We are THE destination in Calgary for local and international visitors to come to for their shopping and entertainment needs. In June 2004 alone, our website received almost 9 million hits making it an instant success story as far away as Tampa Bay! Over the last 16 years, we have accumulated over 35 million website page views from all around the globe. When our beloved Calgary Flames are doing well, we average 100,000-200,000 hits per month as people search for what's new on the physical Red Mile.
The platform was initially designed to be a virtual mall showcasing the nearly 500 businesses and retail entertainment outlets along 17th Ave South between MacLeod Trail East and 14th Street West. The plan was to provide a digital trip down the avenue using pictures of each merchant (now possible using Google street view) and clickable links that would bring the user inside the store for a virtual video tour of the advertiser. Special offers and coupons would be available exclusively to Red Mile Club members which would encourage hundreds of thousands of locals and international tourists to join the club. Each merchant would be able to subscribe and varying levels of membership that would offer more features with each progressive layer of subscription.
Live Webcams were previously and will again be installed at strategic locations along The Red Mile that will draw millions more views from internet users desiring to check-in on the happenings during Flames games celebrations, Stampede events, or just your typical shopping day or evening outing. Since 2004, we have witnessed the rise of portable electronic devices with modern GPS functionality in cell phones with bluetooth and NFC (near field communications) capabilities, allowing for a digital marketer's panacea of new ways to engage walk-by pedestrian traffic with targeted ads and coupons to boost business to Red Mile Members.
The Red Mile will further be promoted during high traffic events like the Stampede parade, at the fairgrounds, at tradeshows and conventions, by tourism bureaus and travel agents, in taxi cabs, in movie theatres, and at numerous other venues, all year long, as the ultimate travel destination in Calgary.
The Business Opportunity
The Red Mile is seeking to partner with independent consultants (IC's) who desire to help in the building of a leading-edge marketing services company whose mission it is to create "the ultimate digital AND physical tourist destination in Alberta", while simultaneously enabling IC entrepreneurs to generate perpetual referral commissions on the clients and merchants they refer to The Red Mile community.
We are looking for the following teams of individuals:
Website Designers skilled on the Wix platform
Document Creation graphic artists with logo, branding, and imaging experience
Videographers and Editors
Presentation Developers skilled on PowerPoint
Video Animators to produce Explainer Videos
Social Media Integration experts to create profiles and push Advertise our products
Sales & Marketing Consultants to source new business advertising leads from the merchants along the mile
Street Teams to run promotional activities during high profile events such as Flames games, the Stanley Cup playoffs, CFL football games, the Stampede, and bi-annual winter and summer Olympic celebrations.
We DO NOT utilize an MLM-style model, but rather a direct sales percentage-based commission model that pays you for total business that transacts resulting from your initial referral. Consultants have a linked connection to the client for any and all business done with TRM or its affiliated companies, for as long as the IC is associated with us AND current on any system access fees, training materials, and other requirements.
The Compensation Plan
The Red Mile requires all representatives acting as IC's to complete a Confidentiality & Non-Disclosure Agreement (CNDA) that applies to any and all business and contacts they interface with on behalf of TRM.
IC's will earn a commision of between 10% and 25% depending on the product or service referred, the total purchase amount, and the total business conducted each month. IC's earn ongoing commissions on all courses or services purchased by their referred clients for the term of the IC's relationship with TRM. Sales associates are paid differently than are designers, technicians, videographers, etc. The compensation plan will be designed uniquely for the IC and will entail attractive incentives and bonuses for achieving high targets.
The Start-up Costs
The Red Mile has spent considerable effort and expense in establishing the business framework for IC's to succeed as "home-based" business consultants so they can work from home and tap into the numerous taxable deductions discussed in this course. We do, however, require some costs to be shared by each IC as cost of doing business, and to support the ongoing improvement and development of the resources you will need to succeed. Although the start-up costs are small in comparison to the tens or hundreds of thousands of dollars required to start a traditional business, there are certain costs you will need to cover at the beginning and over time.
All currencies are in USD for simplicity, as we are doing business throughout North America.
IC's must register and pay an application fee of $299 USD to become an authorized IC of TRM. This covers the setup costs of preparing the CNDA, creating web profiles and email forwards, one business card design, banking set-up for earnings payouts, and other reporting requirements that may be needed.
IC's pay for business cards at $30 USD for 500 cards.
IC's must enroll in the ThoughtWurx School of Business on the Teachable platform where role-specific teaching & training materials (relevant to The Red Mile) similar to this course will be provided. Links to key documents and customer-centric marketing tools will be made available to enrolled IC's through this private platform and through a proprietary IC portal. The courses are all inclusive at $15/mo or $99/yr. This can be expensed as a business licence fee with TRM.
IC's must pay for affiliate access to the various training schools that they wish to learn about, or to represent and earn referral fees from, which will be paid directly by Teachable for all enrollments generated as a result of the IC's unique affiliate link, from wherever it was sourced. Teachable requires a W8 or W9 form to be completed depending on Canada or US taxpayer status. The fee for system access will be billed monthly or annually direct to TRM at the subsidized rate of $15/mo or $99/yr. This allows us to utilize Teachable for all course referral commission collections and reporting, which is then paid on the first of each month based a rolling 30-day basis after a 30-day money back guarantee to the customer.
IC's receive a one-page dedicated profile website landing page to refer to clients for enhanced credibility. Optionally, IC's can purchase a dedicated personal affiliated website at 50% off the retail price.
All in start-up costs would be $359 USD.
$299 for registration, $30 for 500 business cards, $15/mo platform access fee for TWI's School of Business, and $15/mo for each Teachable school affiliate link that pays you for referrals of those courses.
Complete and Continue